Discover more from Newton's Tales of the Macabre
Newton Webb releases free short stories and audiobooks on a weekly basis, featuring tales of terror, death, madness, and the paranormal.
Over 3,000 subscribers
Newt's Nightmares #94
Newt's Nightmares provides subscribers with news on the author's latest work, upcoming releases, and events.
Greetings, my wicked darlings!
It's that month, the month when all the boys and ghouls awaken from their crypts to run riot in the streets. Yes, my dears, it is October, a month of haunting visages and unspeakable terrors. And where am I amidst this cavalcade of shadows and screams? Lounging in the Crete sun like a vampire who's misplaced his coffin. The rays might not bronze me, but let me assure you, I'll return irradiated in all the wrong ways.
(Let's get one thing straight: I don't do the Twilight sparkle. Save that glittery nonsense for Pride Month, where it belongs and excels.)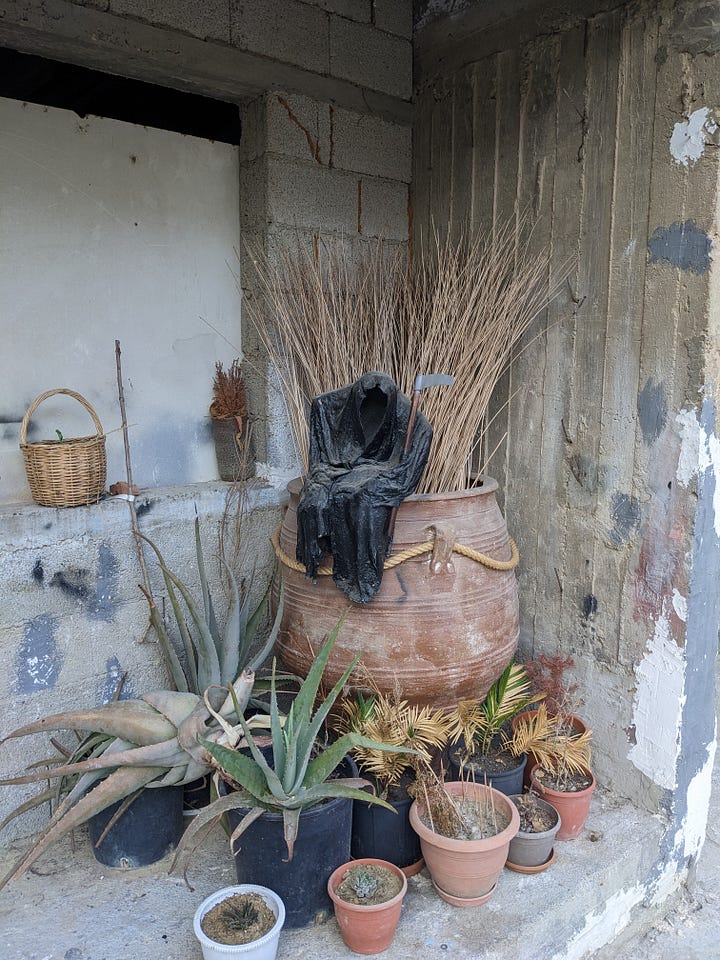 "Tales of the Macabre, Vol. 2" has clawed its way to the top of Amazon's charts, a monstrosity conquering both the New Releases and regular Horror Anthology categories. It also hit number one for Horror Short Stories and Horror in New Releases. My heart may be a shriveled husk, but it swells with ungodly pride for your support. May your dreams be forever haunted by the tales within.
An oversight most foul, but hey, we all make mistakes—even malevolent geniuses like yours truly. Last month, I proudly boasted about unleashing "The Troop" as a free eBook. Well, plot twist! I served you "The Beast of Glenmara" instead. Call it a trick in a season of treats, blame it on the bureaucratic demons, or just attribute it to my own feckless nature. Either way, "The Troop" will emerge from its digital lair this November.
I wanted to bend your ears as I spill the gory details on the screaming—uh, I mean streaming—future of the Tales of the Macabre audio experience. At the moment, it's just me, an author with little acting experience, recording them in a blanket fort (to reduce the echo) with a Yeti Blue.
In the future, I'll be putting two other audio experiences:
Audio books of Tales of the Macabre, Vol. 1 and 2 using a fully qualified narrator in a sound studio delivered via Audible. It's taking a while to find an appropriate actor. Efforts to resurrect Christopher Lee have proven stubbornly ineffective. I suspect he is in the netherworlds supping gin with Errol Flynn.
I'll also be producing a cheaper version, directly using ElevenLabs. I've been tinkering with ElevenLabs' tech, initially as a workaround for my limited gear here, but dang it, the new voices are crisp and the sound quality would wake the dead. Let me be clear: this is not to replace human narrators, but it's a decent alternative for when you're on the road or if Audible's pricing makes you howl at the moon.
Back to writing. Last month, my creative juices were more like a stagnant puddle, thanks to some new medication. Rejoice, for the drugs have settled and the twisted gears of my mind are churning once again! I am proud to announce that I am once more a productive, if not entirely fully functioning, human being.
Many thanks to Rodi Blue Apartments for accommodating me on my writing retreat.
---
New Releases

Behind the Scenes

Free Horror Stories

Unsubscribe (at the bottom of the email)
New Releases
Coming up this month:
11 October 2023, 'The Troop' a free audiobook.
18 October 2023, 'The Road Revenant' a free Halloween special eBook.
25 October 2023, 'The Road Revenant' a free Halloween special audiobook.
In case you missed them, here is a summary of last month's delectable fright's:
13 September 2023 'Tales of the Macabre, Vol. 2' a collected works of Newton Webb's best horror.
20 September 2023 'The Wine Cellar' a free audiobook.
27 September 2023 'The Beast of Glenmara' a free short story.
Behind the Scenes
I've written two new short stories this month, (The Glaistig) and the (The Girl in the Glass), they will be both hitting the website shortly.
The Glaistig
When a sinister infection in their apartment building begins taking over the minds and bodies of residents, a man races to save his infected girlfriend before he loses control of his own mind.
After surviving an unsettling tryst with a murderous phantom in Scotland's eerie highlands, a simple farmer lets a lost woman into his home. Oh, the risks one takes for a little companionship, especially when ancient myths come knocking on your door, ready to shred your blissful home life.
The Girl in the Glass
A man is haunted his entire life by the spectral appearance of a woman in his reflection, who inches closer with time, threatening his sanity and his soul.
Toby's life has been one of perpetual terror, all thanks to a ghostly woman inching ever closer in his reflection. Is she real or the byproduct of a broken mind unraveling? Buckle up for a disturbing trip down a man's twisted psyche as he grapples with an ever-encroaching phantom.
Free Horror Stories
Horror Story Compilations
FRIGHT NIGHT: 50 FREE horror stories, including 'The Green Man', and 'The Blood Eagle'
HALLOWEEN SPECIAL: 78 horror stories, including 'Tales of the Macabre, Vol. 1', 'Tales of the Macabre, Vol. 2', 'Festival of the Damned', 'The Horror at Hargrave Hall', 'Smoke in the Sewers', 'The Ballad of Barnacle Bill', 'The Morrígan', 'The Black Fog', 'The Heir Apparent', 'The Platinum Service'.
Recommended Stories
My Girl, by JF Garrard, FREE download.
Laura has everything – a great husband, enormous house, designer goods and a baby on the way. When a doctor's diagnosis destroys what she has, her mother tells her to visit a Chinese witch for a solution. Is she willing to sacrifice another baby to save her own baby?
Warning: Story contains violent imagery.
Oasis, by Joan De La Haye, FREE download.
In a world devastated by solar flares, the surviving population has turned into flesh-craving zombies due to solar radiation. Only a few remain unaffected. Led by a family of civilians and a squad of battle-worn soldiers, they must reach the safety of a UN base called New Atlantis at the South Pole. But as they face relentless undead hordes, their journey becomes a race against time.
Will they make it to the oasis alive or become part of the undead themselves?
Brightside, by Mark Tullius, FREE to buy on Amazon.
Joe hates his life. His ability to read minds gets him thrown into Brightside, a prison town far from society. Sure, he gets a new girlfriend, but the oppressive environment combined with their exposed thoughts increasingly wears at their relationship over time.
After a horrible tragedy, some of the telepaths decide to make their escape. But they're up against a vicious pack of guards who see the prisoners as dangerous freaks. Can the group's unique abilities free them from Brightside's oppressive confines, or are they doomed to live in captivity and slowly lose their minds?
Death Hunt, by Daniel Willcocks, FREE download.
Donavon Oslow is troubled. A new father living on the borders of a rural town in Alaska's harshest northern borders, he battles his demons by seeking release from the bottom of the bottle.
Taunted by the voice of his late-father, Donavon glimpses hope when the fabled White Stag—an albino sitka blacktail—appears at the edge of the forest. His sights set on the beast, breaking through every obstacle in his path to take down the White Stag.
Nothing will stand the way of his path to glory, or so he thinks… Donavon's priorities are pushed to the limit as his hunt for the White Stag tests his love, his life, and the uncertain future he has built for himself.
House of Mud, by Joseph J Dowling, FREE download.
Mud.
It got everywhere.
Clung to their possessions and sneaked into places Suzie never realized mud could reach. She remembered a time when she'd thought sand was a pain in the ass, but never again in her miserable existence would she complain about a little beach-crotch.
It'd been so different when they'd arrived on the godforsaken plot, full of excitement and hope, long before the earth spat out those old bones. It seemed like yesterday and forever ago.
Thanks for reading Newton's Free Horror! Subscribe for free to receive new posts and support my work.
Newton Webb Bibliography
Available on Amazon
Collected Works
Contemporary
2022 – The Heir Apparent, Novella
2018 – The Morrígan, Novella
2017 – Nestor Lynch, Novel
2013 – Festival of The Damned, Novella
2012 – The Platinum Service, Novella
Historical
1958 – The Black Fog, Short Story
1864 – Smoke in the Sewers, Novella
1832 – The Horror at Hargrave Hall, Novella
1818 – The Ballad of Barnacle Bill, Novella
1194 – Hunted, Short Story
Read a collection of free short stories by Newton Webb on his website.